Homer the Cat was a recurring antagonist for Oswald the Lucky Rabbit, first appearing as an annoying child in All Wet (1927) and later co-starring in other Lantz-era shorts like the short "Homeless Homer". It is presumed that Homer also appears in "Pussy Willie" and once again as the Ortensia's kid brother in Lantz's "The Fireman" (1931).
Homer is a badly behaved and mischievous kitten who often takes advantage of Oswald's kindness, or simply bothers him with pranks. His background and sometimes even his name depends on the short he appears in. Much like Ortensia 's name and background changed depending on the cartoon short. For example. In "Homeless Homer". Homer is an orphaned kitten while in other shorts he is Ortensia's bratty little brother.
A number of kittens with a very similar appearance and disposition appeared as Oswald's cat nephews in the Oswald short "Henpecked" and again appeared as the antagonists in the Mickey Mouse short: Mickey's Orphans.
Appearance in modern comics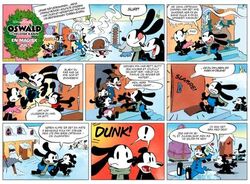 Homer makes an surprising return in the Norwegian comic "En magisk jul!" ("Just Like Magic!"). This marks the first Oswald and Ortensia appearance in modern Disney comics outside of the Epic Mickey universe and Homer's first outing in more than 70 years.
Written by David Gerstein and the art by Mark Kausler. It is based and takes place in the times of the classic Oswald shorts from 1927/1928.
In this comic, Homer is Ortensia's bratty little brother and both have a rich banker father called J. P. Whiskers. Homer wants to embarrass Oswald in front of Ortensia as much as possible. His appearance in this comic confirm his name as Homer in the Disney universe.
Trivia
Homer the Cat's more mature appearance in Oh Teacher, in which he's the same size as Oswald, looks a lot like Julius the Cat.
External links
David Gerstein comments on Homer and the story on his Deviantart account. "In this comic (as in some Lantz-era cartoons), Homer is Ortensia's bratty little brother. He doesn't want to break them up—he just wants to embarrass Oswald in front of her as much as possible."
David Gerstein 's Ramapith blog about Homer. "We're presuming "Pussy Willie" is the same bratty little cat who debuts in Disney's Homeless Homer in the eponymous Winkler title (1928), and once again as the girlfriend's kid brother in Lantz's The Fireman (1931). Hugh Harman and Rudy Ising reused him at Warner as Bosko's foil, renaming him "Wilbur"; you have to wonder if Oswald paid Bosko to take him."
Ad blocker interference detected!
Wikia is a free-to-use site that makes money from advertising. We have a modified experience for viewers using ad blockers

Wikia is not accessible if you've made further modifications. Remove the custom ad blocker rule(s) and the page will load as expected.