Ad blocker interference detected!
Wikia is a free-to-use site that makes money from advertising. We have a modified experience for viewers using ad blockers

Wikia is not accessible if you've made further modifications. Remove the custom ad blocker rule(s) and the page will load as expected.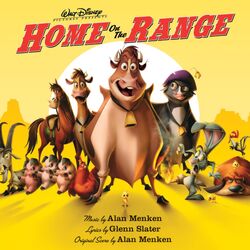 Home on the Range: An Original Walt Disney Records Soundtrack is the soundtrack to Disney's 2004 animated feature Home on the Range. It contains music written by Alan Menken and Glenn Slater, and vocal songs performed by k.d. lang, Randy Quaid, Bonnie Raitt, Tim McGraw, and The Beu Sisters along with the film's score composed by Alan Menken. The album was released on March 30, 2004 by Walt Disney Records.
Track listing
You Ain't Home on the Range - Chorus
Yodel-Adle-Eedle-Idle-Oo - Randy Quaid and Chorus
(You Ain't) Home On The Range - Echo Mine Reprise - Chorus
Anytime You Need a Friend - The Beu Sisters
Cows In Town/Saloon Song (Score)
On The Farm (Score)
Bad News (Score)
Storm And The Aftermath (Score)
Cows To The Rescue (Score)
Buck (Score)
My Farm Is Saved/Little Patch of Heaven(Reprise) (Score)
Anytime You Need a Friend - Alan Menken
| | |
| --- | --- |
| | This page uses content from the English Wikipedia. The article or pieces of the original article was at Home on the Range (2004 film). The list of authors can be seen in the page history. As with Disney Wiki, the text of Wikipedia is available under the GNU Free Documentation License. |