The Home of the Future, formally known as the Monsanto House of the Future, was a walkthrough attraction located at Tomorrowland in Disneyland Park.
History
Sponsored by Monsanto Company, its design and construction was overseen by Monsanto, the Massachusetts Institute of Technology and Walt Disney Imagineering. It was opened on June 12, 1957 and closed in December 1967, replaced by Alpine Gardens before being overlain into Pixie Hollow.
In February 2008, Disney announced it would conceptually bring back the attraction with a more modern and accessible interior. The $15 million Innoventions Dream Home is a collaboration of the Walt Disney Company, Microsoft, Hewlett-Packard, software maker LifeWare, and homebuilder Taylor Morrison.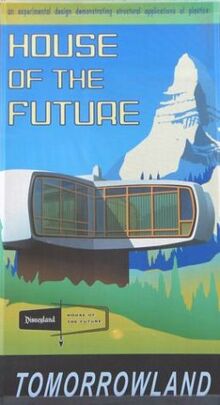 Synopsis
The attraction offered a tour of the home of the future from the year 1986 with now commonplace household items such as microwave ovens. The house saw over 435,000 visitors within the first six weeks of opening, and ultimately saw over 20 million visitors before being closed.
Trivia
The building was so sturdy that when demolition crews failed to demolish the house using wrecking balls, torches, chainsaws and jackhammers, the building was ultimately demolished by using choker chains to crush it into smaller parts. The reinforced polyester structure was so strong that the half-inch steel bolts used to mount it to its foundation broke before the structure itself did.
It has had a significant impact on later design at Disney and Epcot.
References
https://en.wikipedia.org/wiki/Monsanto_House_of_the_Future
https://www.youtube.com/watch?v=ne1ZgHgfLkY
| | |
| --- | --- |
| | This page uses content from the English Wikipedia. The article or pieces of the original article was at Home of the Future. The list of authors can be seen in the page history. As with Disney Wiki, the text of Wikipedia is available under the GNU Free Documentation License. |
Ad blocker interference detected!
Wikia is a free-to-use site that makes money from advertising. We have a modified experience for viewers using ad blockers

Wikia is not accessible if you've made further modifications. Remove the custom ad blocker rule(s) and the page will load as expected.