"Hoist the Colours" can refer to two things, though essentially the same meaning:
Appearances
Films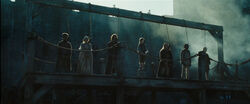 In the first scene, Hoist the Colours was sung by assembled men and women sentenced for execution by the East India Trading Company. This occurred after a cabin boy, facing the gallows, began singing the song while holding a piece of eight. By the time Cutler Beckett is informed of the prisoners singing, Beckett only said "Finally" before they were all simultaneously hanged. Meanwhile, the song continued as Elizabeth Swann rowed through a waterway in Singapore.
At this point, the song is only mentioned by Hector Barbossa (to Sao Feng) and Tia Dalma (to Jack Sparrow). The song Hoist the Colours told the tale of the binding of Calypso by the First Brethren Court.
Video games
The phrase "Hoist the Colours" has been said at least once in the game.
Lyrics
The king and his men stole the queen from her bed

and bound her in her bones

The seas be ours and by the powers

Where we will, we'll roam
Yo Ho, all hands, hoist the colors high

Heave ho, thieves and beggars, never shall we die

Yo Ho, haul together, hoist the colours high

Heave ho, thieves and beggars, never shall we die
Some have died and some are alive

Others sail on the sea

With the keys to the cage

And the devil to pay

We lay to Fiddler's Green
The bell has been raised from its watery grave

Hear its sepulchral tone

A call to all, pay heed the squall

Turn your sail towards home
Yo Ho, haul together, hoist the colours high

Heave ho, thief and beggar, never say we die
Behind the scenes
The lyrics were written by Pirates writers Ted Elliott and Terry Rossio, with the assistance of director Gore Verbinski. Every verse relates to the story of Calypso and Davy Jones, as well as what occurred at the First Brethren Court.[1]
The song was inspired by the "myth" that Blackbeard used "Sing a Song of Sixpence" as a recruiting song. The myth itself was a hoax by Snopes.com's "The Repository of Lost Legends", but the writers of the POTC films found it to be interesting enough to create a song for At World's End.[1]
Notes and references
External links