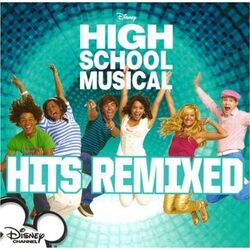 High School Musical Hits Remixed is an album released on December 11, 2007 exclusively to Wal-Mart. It features remixes of various songs from both High School Musical and High School Musical 2. It is similar to Hannah Montana: Hits Remixed.
Track listing
"Bet on It" (Remix)
"Fabulous" (Remix)
"Breaking Free" (Remix)*
"Bop to the Top" (Remix)
"I Don't Dance" (Remix)**
"I Can't Take My Eyes Off of You" (Remix)
"Humuhumunukunukuapua'a" (Remix)
"We're All in This Together" (Remix)*
*videos as seen on the High School Musical: Remix DVD.
**Remixed by the song's authors, Robbie Nevil and Matthew Gerrard.
| | |
| --- | --- |
| | This page uses content from the English Wikipedia. The article or pieces of the original article was at High School Musical Hits Remixed. The list of authors can be seen in the page history. As with Disney Wiki, the text of Wikipedia is available under the GNU Free Documentation License. |
Ad blocker interference detected!
Wikia is a free-to-use site that makes money from advertising. We have a modified experience for viewers using ad blockers

Wikia is not accessible if you've made further modifications. Remove the custom ad blocker rule(s) and the page will load as expected.