"Hercules and the Assassin" is the fourth episode of Hercules: The Animated Series.
Plot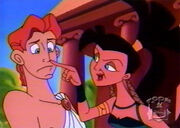 Hercules meets Tempest, an Amazonian warrior, and in an attempt to impress her, steals one of Phil's spears. However, when he throws it, it nearly kills
Pericles
, governor of Athens, who has had several assassination attempts made against him by Minister
Clion
, who is working for Ares.
Chipacles
, chief of Athens security, vows to find the assassin, and the discovery of Phil's spear leads him to believe that Phil is the assassin, resulting in his arrest. While Icarus and Cassandra plead Phil's case, Hercules teams up with Tempest to catch the true assassin. Phil is still sentenced to death, but Clion reveals himself after being empowered by Ares; Athena, discovering Ares' activities, gives Hercules the one weapon he needs to defeat Clion: his hero training spear.
Characters
Main Characters
Recurring Character
Guest Character
Songs
Ad blocker interference detected!
Wikia is a free-to-use site that makes money from advertising. We have a modified experience for viewers using ad blockers

Wikia is not accessible if you've made further modifications. Remove the custom ad blocker rule(s) and the page will load as expected.