Ad blocker interference detected!
Wikia is a free-to-use site that makes money from advertising. We have a modified experience for viewers using ad blockers

Wikia is not accessible if you've made further modifications. Remove the custom ad blocker rule(s) and the page will load as expected.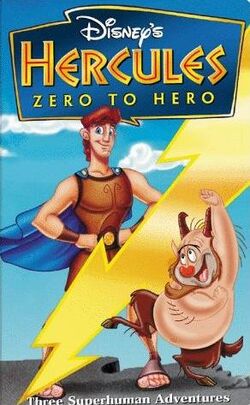 Hercules: Zero to Hero
is a direct-to-video release edit of episodes of
Hercules: The Animated Series
.
The episode Hercules and the Yearbook is the main plot of the video. Unlike the televised version, the random clips are replaced with 3 other episodes (In the following order):
Some of the dialogue between Hercules and Meg are altered to fit the episodes. An example of this is Hercules and the Visit From Zeus replacing the clip of Hercules graduating from Prometheus Academy.