Lord Henry Mystic is one of the main characters of Hong Kong Disneyland's Mystic Manor.
Background
A member of the Society of Explorers and Adventurers, Henry Mystic and his pet monkey Albert, have traveled the world together, accumulating numerous antiquities from all over the world. He eventually opened his home in the secluded rainforest of Mystic Point as a museum, devising the "Mystic Magneto-Electric Carriage" as a means to transport visitors around his home.
To help manage his 7000 artifact collection, he has also enlisted the help of his grandchildren among others. In 1909, Mystic and Albert found a mysterious enchanted music box said to bring inanimate objects to life when opened. Though he did not see what had occurred, Albert's opening of the music box nearly threw his collection in disarray, though the chaos that ensued was undone upon the box being closed.
Trivia
Henry Mystic and Albert were originally to be depicted in a more realistic fashion, keeping with Tokyo Disney Sea's Tower of Terror. However, in an effort to make the attraction more appealing to families, the two characters were rendered in more of an animated style.
v - e - d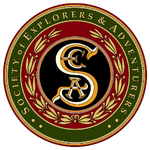 Restaurants
Magellan's • Jock Lindsey's Hangar Bar • Skipper Canteen