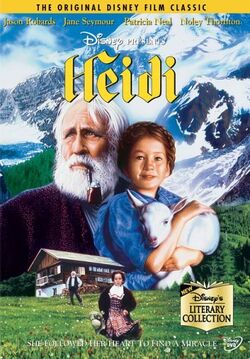 Heidi is a Disney Channel TV movie based on the 1880 book Heidi by Johanna Spyri. This is a movie about an orphan girl named Heidi who is sent by a woman Dete to live with her grumpy grandpa in the log cabin in the Mountains. Together they learn to get along and Heidi makes friends with a boy named Peter and the neighbor who's a grandma. One day Dete takes Heidi away from her home and is sent to a city Frankfurt to be with a girl in a wheelchair named Clara.
Plot
In the beginning in the log cabin, Heidi's grandfather has a bad temper and a fight with his son getting married to his wife with a baby named Heidi and kicks them out during a lighting storm. A short time after lighting struck the tree and kills both of Heidi's parents but Heidi as a baby survives and Grandpa is sadded by the loss of his son. 12 years later after Heidi lived with her cousin Dete. Dete sends Heidi to live with her Grandpa in the Alps. After Dete arrives in the mountains she talks to Grandpa who argues with Dete that he doesn't want Heidi around. Then Dete leaves Heidi with her Grandpa who has to learn to get along with his grandaughter Heidi.
Cast of Characters
Gallery
Ad blocker interference detected!
Wikia is a free-to-use site that makes money from advertising. We have a modified experience for viewers using ad blockers

Wikia is not accessible if you've made further modifications. Remove the custom ad blocker rule(s) and the page will load as expected.