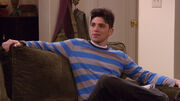 All info was provided
http://sonnywithachance.wikia.com/wiki/Hayden
Hayden (Robert Adamson) is one of the interns that works at Condor Studios.
Personality
Hayden is a pretty casual guy. He is more comfortable with a home cooked dinner and a date night in rather than going out to a fancy, expensive restaurant. He enjoys sports, hanging out and listening to music. He is not a high maintenance kind of guy guy.
Relationships
Tawni Hart
Tawni had a crush on Hayden during "Sonny in the Kitchen with Dinner". He was the first guy that Tawni liked who wasn't a movie star or hotel heir or prince. His idea of a fun date is just hanging out, having a homecooked meal and listening to some music, which is exactly the opposite of what Tawni wanted. They first go on a date to a Lakers Basketball game, which ends poorly when Sonny and Hayden are pressured to kiss because of the Kiss Cam. Tawni becomes upset over Sonny kissing the love of her life. Sonny is eventually able to convince Hayden to give Tawni another chance, and having a date that is more Hayden's taste. Their date occurs at Sonny's apartment, though Tawni is claiming that it is her apartment. This date also ends poorly when many interruptions and food poisoning come into play. Their relationships appears to officially end when Tawni's lies are revealed and Hayden ends up with food poisoning.
Sonny Munroe
Sonny and Hayden's relationship is mostly a misunderstanding. They are pressured into kissing at the Lakers Game because of the Kiss Cam. Chad and Tawni are two people who misunderstand the situation and think that Hayden made a move on Sonny. This causes Tawni to become upset with Sonny and Chad to become jealous. From then on, their relationship is complicated, though they do not see each other in a romantic way. Hayden and Sonny appear to be friends at the end of the episode, but nothing more.
Trivia
The actor, Robert Adamson, co-starred with Demi Lovato in the Disney Channel Original Movie, Princess Protection Program.
Hayden and Sonny share the first on screen kiss in the series due to the Kiss Cam.
Tawni probably put him on the "Absolutely Not" break up-with list as seen in "Chad Without a Chance," which made Chad break Hayden's relationship with Tawni.
Sonny and Hayden's kiss cam kiss, was Demi Lovato's first on screen kiss ever.
Hayden is originally from Indianapolis, Indiana.