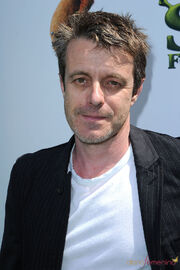 Harry Gregson-Williams (born December 13, 1961) is a Golden Globe and Grammy-nominated British film score composer.
Biography
Early in his career, Gregson-Williams held a position in the 1980s as a music teacher to pupils at the Amesbury School in Hindhead, Surrey, England (his brother Rupert, also a film composer, also taught at Amesbury School during this period). He later taught music at the Guildhall School of Music & Drama, where he had been a pupil, and also for a short period in both Egypt and Africa.
Gregson-Williams has scored a number of motion pictures including Kingdom of Heaven, The Chronicles of Narnia: The Lion, the Witch and the Wardrobe and its sequel The Chronicles of Narnia: Prince Caspian, Sinbad: Legend of the Seven Seas, 'The Rock, Shrek, Chicken Run, Spy Game, Man on Fire, X-Men Origins: Wolverine, and Team America: World Police.
Filmography
Ad blocker interference detected!
Wikia is a free-to-use site that makes money from advertising. We have a modified experience for viewers using ad blockers

Wikia is not accessible if you've made further modifications. Remove the custom ad blocker rule(s) and the page will load as expected.