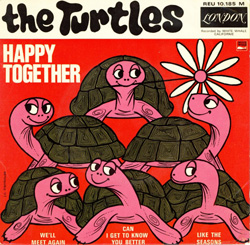 "Happy Together" is a 1967 song from The Turtles' album of the same name. Released in February 1967, the song knocked The Beatles' "Penny Lane" out of the #1 slot for three weeks on the Billboard Hot 100. It was the group's only chart-topper. "Happy Together" reached #12 on the UK Singles Chart in April 1967. The song was written by Garry Bonner and Alan Gordon, former members of a band known as The Magicians. The song had been rejected a dozen times before it was offered to The Turtles, and the demo acetate was worn out.
The song has been featured in many movies, 1987's Ernest Goes to Camp and 2003's Freaky Friday featured "Happy Together," as well as a cover by Simple Plan.
On television, the song was performed in Episode 107 of The Muppet Show by guest star Florence Henderson and a group of Muppet Monsters and Frackles. It was also featured on a Disney Cinemagic commercial, advertising The Many Adventures of Winnie the Pooh.
Lyrics
Imagine me and you, I do
I think about you day and night
It's only right
To think about the girl you love
And hold her tight
So happy together

If I should call you up, invest a dime
And you say you belong to me
And ease my mind
Imagine how the world could be
So very fine
So happy together

I can't see me lovin' nobody but you for all my life
When you're with me, baby, the skies will be blue for all my life

Me and you and you and me
No matter how they tossed the dice
It had to be
The only one for me is you
And you for me
So happy together

I can't see me lovin' nobody but you for all my life
When you're with me, baby, the skies will be blue for all my life

Me and you and you and me
No matter how they tossed the dice
It had to be
The only one for me is you
And you for me
So happy together

Ba, ba-ba, ba-ba ba-ba ba-ba ba
Ba ba-ba ba
Ba, ba-ba, ba-ba ba-ba ba-ba ba
Ba ba-ba ba

Me and you and you and me
No matter how they tossed the dice
It had to be
The only one for me is you
And you for me
So happy together

So happy together
How is the weather?
So happy together
We're happy together
So happy together
We're happy together
So happy together
So happy together