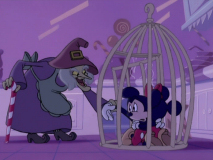 Hansel and Gretel is a short that originally aired as part of an episode of Mickey Mouse Works. It was later featured in Mickey's House of Villains and an episode of House of Mouse. The music featured is Danse Macabre.
Plot
Mickey and Minnie play the roles of Hansel and Gretel in a musical retelling of the classic fairy tale.
Gallery
Ad blocker interference detected!
Wikia is a free-to-use site that makes money from advertising. We have a modified experience for viewers using ad blockers

Wikia is not accessible if you've made further modifications. Remove the custom ad blocker rule(s) and the page will load as expected.