Hammerhead Hannigan
Comments

0
18,993pages on
this wiki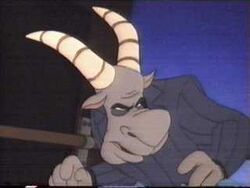 Hammerhead Hannigan is the secondary antagonist in Darkwing Duck in the pilot episode, Darkly Dawns the Duck. He was voiced by Laurie Faso in "Darkly Dawns the Duck" and Tad Stones in "In Like Blunt."
Darkwing Duck
Hammerhead is a surly goat wearing a pinstriped suit who talks and acts like a stereotypical 1930s gangster. He is Taurus Bulba's lead henchman and often the target of the latter's anger issues, which he tries to pin on his two subordinates, Hoof and Mouth. His gimmick is that he uses his head as a blunt object to headbutt his enemies. He appears to be based on the Marvel Comics villain of the same name, although a Three Stooges reference suggests he may also have been inspired by Shemp Howard's character named Hammerhead in "The Invisible Woman." His choice of attack, headbutting, may also be based on actual male goat behavior as a show of aggression and dominance. Of Taurus' henchmen, Hammerhead is the only one who went on to appear in a third episode.
He was shown briefly in the episode "In Like Blunt" about to beat up Phineas Sharp when the list that Phineas was going to sell was replaced with a grocery list.
Gallery