Hail to the Legion of Pirate Villains is a song from Jake and the Never Land Pirates. Sung led by Grim Buccaneer, ShiverJack,Doctor Undergear and Captain Hook.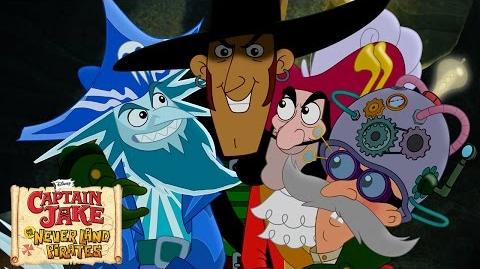 Lyrics
The legion of pirate villains!
Grim: Evil doers and well, Just follow me. We had enough of losing now we need our league we can make this job bigger if were doing big together and laws colossus treasure we'll be ours just wait and see
(Evil laugh)
Shiverjack: I had enough of all these sunshine.
Dr. Undergear: Oh and those pesky little pirates throw a ranch and all my schemes
ShiverJack: I will play along then freeze them
Dr. U: I'll pretend to help that sequils
Captain Hook: I'll cut out the other three!
All: and keep the treasure all for me!
All: All hail the legion of Pirate Villains!
the legion of pirate Villains!
Dr. U and ShiverJack's laugh
the legion of pirate Villains!