Ad blocker interference detected!
Wikia is a free-to-use site that makes money from advertising. We have a modified experience for viewers using ad blockers

Wikia is not accessible if you've made further modifications. Remove the custom ad blocker rule(s) and the page will load as expected.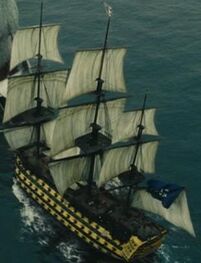 The
HMS Endeavour
was the immense flagship of Lord
Cutler Beckett of
the East India Trading Company. It was the ship that led Beckett's armada during the War Against Piracy. Beckett maintained an expansive cabin on the Endeavour, which contained a large globe to complement the map of the world that was painted in his office in
Port Royal
. It was sunk in the barrage by the Black Pearl and the Flying Dutchman.