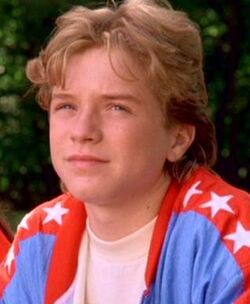 Guy Germaine
is secondary character in the Mighty Ducks Trilogy. Guy is from St. Paul,
Minnesota
. He is a hockey player and plays Forward Position, and wears number 00. He serves as a model player for the Ducks on the ice, and is second only to
Adam Banks
in terms of skill. In
The Mighty Ducks
, he is part of the "Oreo Line" with the Hall Brothers. He and
Connie Moreau
are in a relationship as seen by a victory kiss at the end of The Mighty Ducks and a near kiss in the beginning of
D2
. Guy Germaine also attended
Eden Hall Academy
, as seen in
D3: The Mighty Ducks
. Guy is portrayed by Garette Ratliff Henson.
Quotes
About to kiss Connie but interrupted by Jesse, Charlie, and Averman.