Gus Goose is a lazy, and often hungry goose, who is Donald Duck's country cousin, and the farmhand of Grandma Duck.
Appearances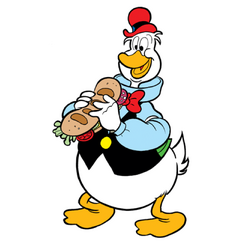 Gus Goose first appeared in this 1939 short, where he visits his cousin Donald Duck.
Comics
In the Disney comics, Gus Goose is usually seen living on Grandma Duck's farm outside of Duckburg, where he works as her farmhand. Unlike in the cartoons, he is depicted as being able to speak like a normal person.
Gus makes a non-speaking cameo appearance at Fezziwig's Christmas party, dancing with Clara Cluck.
A character who looks like Gus is seen in the episodes "Magica's Shadow War", "Duckworth's Revolt" and "Sweet Duck of Youth". In "Sweet Duck of Youth", he is seen with other friends and relatives of Scrooge McDuck at his birthday party.
Although he never appeared on the show, his name could be seen on a punch card in "Donald's Rocket Ruckus".
Gus reappeared in animation in House of Mouse as the club's gluttonous chef. In this series, once again, Gus only speaks in honking vocal sounds rather than saying actual words.
Gus also reappeared in animation in Minnie's Bow-Toons, but unlike his previous animated incarnations, he doesn't talk, nor make any noises.
Gus appears with a speaking role in Duck the Halls: A Mickey Mouse Christmas Special, where he makes a smoothie in a blender and the sound of the blender is mistaken for Donald. He was also seen rejoicing with the other ducks upon hearing that ducks (and in his case, geese) can celebrate Christmas.
Gallery
External links