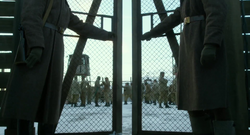 Gulag 38B is a Russian prison camp in Siberia, Russia from Muppets Most Wanted. Run by Nadya and has been around since 1932, it had a wide range of convicts, criminals, murderers, thieves and criminal masterminds.
The prison camp is home to fellow inmates Angel Marie, Spotted Dick, Carl, Walleye Pike, Miss Poogy, Pops, Murray the Minstrel, Brool the Minstrel, Aretha, One-Eyed Jack, Blind Pew, Black Dog, Jacques Roach, Calico, Wander McMooch, Pink Frackle, Blue Frackle, Stavros Grouper, [1], and Green Frackle.
Ad blocker interference detected!
Wikia is a free-to-use site that makes money from advertising. We have a modified experience for viewers using ad blockers

Wikia is not accessible if you've made further modifications. Remove the custom ad blocker rule(s) and the page will load as expected.