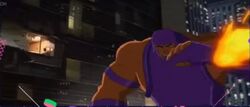 Growing Man is a character and supervillain from Marvel Comics who appeared in Avengers Assemble, voiced by Travis Willingham.
He is an android built by Justin Hammer so he can destroy the Avengers and conquer New York City. Growing Man is as tall as a skyscraper, it can absorb damage and gain power from it, and it has superhuman strength.
Growing Man was created by Stan Lee and Jack Kirby.
Ad blocker interference detected!
Wikia is a free-to-use site that makes money from advertising. We have a modified experience for viewers using ad blockers

Wikia is not accessible if you've made further modifications. Remove the custom ad blocker rule(s) and the page will load as expected.