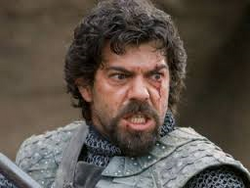 Lord Gregoire served as a Marshal of the Lists for Miraz, alongside Lord Sopespian and General Glozelle. He plotted against Miraz with the two. But he met his end after Miraz's murder.
He charged at Peter Pevensie but only got his legs sliced from under him and then his throat cut. In the Prince Caspian game he is the second to last boss you fight in The Battlefield of Beruna.
Ad blocker interference detected!
Wikia is a free-to-use site that makes money from advertising. We have a modified experience for viewers using ad blockers

Wikia is not accessible if you've made further modifications. Remove the custom ad blocker rule(s) and the page will load as expected.