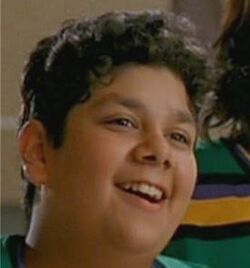 Greg Goldberg
is a hockey player from
The Mighty Ducks
Trilogy. He is portrayed by Shaun Weiss.
History
He is originally from Philadelphia, Pennsylvania, but lives in Minnesota. Goldberg is a goalie and wears the number 33. Although the weaker and less skilled goalie than Julie Gaffney, Goldberg has the better stick as opposed to Gaffney's glove. Goldberg is known for his flatulence and love of food. When first introduced in The Mighty Ducks, he was terrified of the puck coming toward him and often took cover instead of blocking the incoming puck. Coach Bombay changes this in an early practice by tying him to the net and forcing him to endure a firing squad of the other players shooting pucks at him. This helps him to overcome his fears and builds his confidence and skills as a goalie. In D2, he expressed jealousy when Tibbles brought in Julie, concerned that he would be replaced. Eventually he comes to accept her, and acts cocky in the games due to his growing confidence and talents as a goalie. When the team is in Los Angeles, he fools a Rodeo Drive salesclerk into thinking that he is related to Aaron Spelling, which allows him, Dwayne, Averman, and Jesse access into the snooty establishment. They are offered drinks and a private collection showing of women's fashions until Greg claims that he's looking for a bikini for his mom's "present," this resulting in all 4 boys being kicked out. In D3: The Mighty Ducks, he switches positions from goalie to defenseman. At first, he resists the idea of being pegged number 2 as goalie by Coach Orion and attempts to sabotage Julie by feeding her sugary, heavy carbohydrates to slow her down during practice. Over time, he accepts his new position and seems happier leaving the goalie duties to Julie. Goldberg also scores winning goal in D3, with an assist from Charlie Conway.
Quotes
"Well, we don't really practice per say. We either play or... play around."
"Hey, look, it's Hop-Along Gretzky!"
"I am Goldberg the Goalie!"
Gallery
Ad blocker interference detected!
Wikia is a free-to-use site that makes money from advertising. We have a modified experience for viewers using ad blockers

Wikia is not accessible if you've made further modifications. Remove the custom ad blocker rule(s) and the page will load as expected.