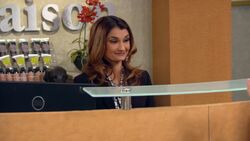 Grace is a receptionist in Dog With a Blog. She's portrayed by Anjali Bhimani.
Character History
Grace is a receptionist at Chez Chateau Maison.
Avery, Chloe, and Stan tried to snuck in but Grace told him that a doctor is already booked for Princess. Tyler took it upon himself to be him.
When Bennett and Ellen arrived, they thought it was a dog spa, Grace tried to convince them but gave in when Bennett persisted.
When the real Dr. Monfore arrived, she tried to figure out what's going but she got ended up locked in the closed along with Dr. Monfore.
Trivia
Stan's daughter, Gracie, was named after her.
Ad blocker interference detected!
Wikia is a free-to-use site that makes money from advertising. We have a modified experience for viewers using ad blockers

Wikia is not accessible if you've made further modifications. Remove the custom ad blocker rule(s) and the page will load as expected.