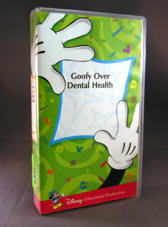 Goofy Over Dental Health is a 1990 Disney short educational film featuring Goofy.
Synopsis
A 13 minute video for young children teaching good oral health with help from the Disney character Goofy, and others. 8 year old Kevin is magically transported to Dr. Molars' dental office where Goofy, Dr. Molars' dental-helper-for-the-day, teaches Kevin about the importance of healthy teeth. This program combines live action with classic Disney animation to illustrate proper dental hygiene for young audiences. With the help of a magic toothbrush, young Kevin is transported to a dental office where Dr. Molars and Goofy team up to teach important lessons about healthy teeth. Kevin learns that he must brush, floss, eat healthy snacks, and visit a dentist regularly.
Gallery
Ad blocker interference detected!
Wikia is a free-to-use site that makes money from advertising. We have a modified experience for viewers using ad blockers

Wikia is not accessible if you've made further modifications. Remove the custom ad blocker rule(s) and the page will load as expected.