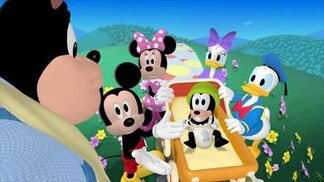 Goofy Baby
is an episode from the second season of
Mickey Mouse Clubhouse
, which originally aired on
Playhouse Disney
on January 27, 2008.
Plot
Goofy has accidentally been turned into a baby by one of Ludwig Von Drake's inventions. Can the Mickey Mouse Clubhouse friends bring him back to normal?
Synopsis
After visiting Ludwig van Drake, Goofy is turned into a baby by a time machine attempting to turn him into a knight from medieval times. Mickey and his friends embark on a mission to turn him back, and learn several things about babies in the process.
Characters Present
Mouseketools
A bouncy ball
Tape
A ladder
Three baby bottles
Gallery
Ad blocker interference detected!
Wikia is a free-to-use site that makes money from advertising. We have a modified experience for viewers using ad blockers

Wikia is not accessible if you've made further modifications. Remove the custom ad blocker rule(s) and the page will load as expected.