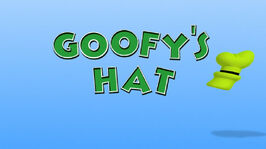 Goofy's Hat is the 13th episode from the second season of Mickey Mouse Clubhouse which originally aired on Playhouse Disney on March 15, 2008.
Plot
Today is the Clubhouse's "Picture Day", where all of the Mickey Mouse Clubhouse friends get their picture taken. But, it seems that Goofy is not in a happy mood. What happened to him? That's right. He lost his hat.
Mouseketools
A giant marshmallow
A pearlscope
A really big fan
A hoppity ball
Guests
Gallery
Ad blocker interference detected!
Wikia is a free-to-use site that makes money from advertising. We have a modified experience for viewers using ad blockers

Wikia is not accessible if you've made further modifications. Remove the custom ad blocker rule(s) and the page will load as expected.