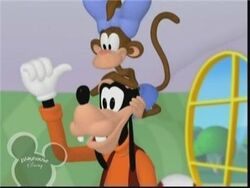 "
Goofy's Coconutty Monkey
" is an episode from the second season of
Mickey Mouse Clubhouse
, which originally aired on
Playhouse Disney
on
October 5
,
2009
.
Plot
When Goofy's friend Coco the Monkey can't find any coconuts for her "coconutty party," Goofy, Mickey and the clubhouse gang take a trip into the jungle in search of coconuts.
Ad blocker interference detected!
Wikia is a free-to-use site that makes money from advertising. We have a modified experience for viewers using ad blockers

Wikia is not accessible if you've made further modifications. Remove the custom ad blocker rule(s) and the page will load as expected.