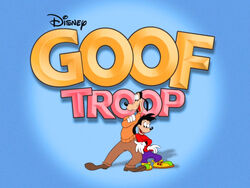 The following is an episode list for the
Walt Disney Television Animation
produced series,
Goof Troop
. The series, which featured the antics and (mis-)adventures of
Goofy
, his son
Max
and his neighbor
Pete
, along with Pete's family (wife
Peg
, son
P.J.
and daughter
Pistol
), ran for a total of 79 episodes.
Goof Troop was originally previewed on The Disney Channel in the spring of 1992. An hour-long pilot special "Forever Goof" aired in syndication on September 5. The next week, the series became part of The Disney Afternoon, where 65 episodes (including the pilot, rerun in two parts) were broadcast during September 1992-November 1993. Another set of 13 episodes aired on ABC's Saturday morning lineup in the fall of 1992, concurrent with the weekday syndicated episodes. During the holiday season of 1992, a Christmas special was aired in syndication (separate from The Disney Afternoon).
The Disney Afternoon and ABC episodes constituted a single production season, but they are listed separately here. However, there seems to be a difference in content. A lot of the Disney Afternoon episodes focused mainly on the series' subplot about the good-natured Goofy driving Pete crazy without realizing it, or Pete trying to exploit or double-cross Goofy for his own good, which almost always backfires on him. As a contrast, the ABC episodes generally focused less on this conflict and more on the other family members (some episodes even showed Goofy and Pete acting almost like unlikely buddies). The Christmas special, however, showed Pete in full force in his I-hate-Goofy-and-everything-he-stands-for persona.
(Specific Disney Afternoon episode airdates from September 1992 to November 1993 are not available. Airdates given here reflect the Disney Afternoon and ABC airings - the Disney Channel preview airdates are not available.)
Season 1 (1992-1993)
#
Title
Airdate
Production
code
1
"Everything's Coming Up Goofy"
September 5, 1992
AU8
2
"Good Neighbor Goof"
AU10
3
"Axed by Addition"
September 7, 1992
FR29
4
"Unreal Estate"
September 8, 1992
AU7
5
"You Camp Take It With You"
September 9, 1992
AU2
6
"Midnight Movie Madness"
September 10, 1992
AU1
7
"Counterfeit Goof"
September 11, 1992
AU11
8
"O, R-V, I N-V U"
September 14, 1992
AU16
9
"Meanwhile, Back at the Ramp"
September 15, 1992
FANZ12
10
"Close Encounters of the Weird Mime"
September 16, 1992
AU27
11
"Slightly Dinghy"
September 17, 1992
AU15
12
"Cabana Fever"
September 18, 1992
KC9
13
"When There's Smoke, There's Goof"
September 21, 1992
AU21
14
"Date with Destiny"
September 22, 1992
AU28
15
"Hot Air"
September 23, 1992
KC14
16
"Take Me Out of the Ball Game"
September 24, 1992
AU37
17
"Wrecks, Lies & Videotape"
September 25, 1992
AU44
18
"Max-imum Protection"
September 28, 1992
KC30
19
"Goofin' Hood and his Melancholy Men"
September 29, 1992
SW46
20
"Leader of the Pack"
September 30, 1992
SW31
21
"Inspector Goofy"
October 1, 1992
SW5
22
"Shake, Rattle & Goof"
October 2, 1992
SW38
23
"Terminal Pete"
October 5, 1992
W42
24
"Fool's Gold"
October 6, 1992
SW45
25
"Cat's Entertainment"
October 14, 1992
KC59
26
"Waste Makes Haste"
October 15, 1992
AU23
27
"The Ungoofables"
October 19, 1992
SW25
28
"All the Goof That's Fit to Print"
October 22, 1992
SW3
29
"To Heir is Human"
October 28, 1992
SW56
30
"Hallow-Weenies"
October 30, 1992
KC54
31
"Tub Be or Not Tub Be"
November 4, 1992
KC26
32
"Major Goof"
November 5, 1992
AU18
33
"A Goof of the People"
November 8, 1992
AU61
34
"Goof Under My Roof"
November 12, 1992
GP13
35
"Goodbye Mr. Goofy"
November 14, 1992
SW39
36
"Lethal Goofin'"
November 18, 1992
KC33
37
"Frankengoof"
November 19, 1992
W50
38
"E=MC Goof"
November 20, 1992
S58
39
"Pete's Day at the Races"
November 23, 1992
AU51
40
"In Goof We Trust"
November 24, 1992
AU4
41
"And Baby Makes Three"
November 28, 1992
AU57
42
"The Incredible Bulk"
November 29, 1992
S20
43
"Mrs. Spoonerville"
November 30, 1992
W43
44
"For Pete's Sake"
January 3, 1993
KC34
45
"Big City Blues"
January 7, 1993
SW47
46
"Rally Round the Goof"
April 5, 1993
W49
47
"Window Pains"
April 14, 1993
S35
48
"Nightmare on Goof Street"
April 16, 1993
AU63
49
"Where There's a Will, There's a Goof"
April 22, 1993
W41
50
"Winter Blunderland"
July 8, 1993
J22
51
"Gymnauseum"
July 20, 1993
S32
52
"Come Fly with Me"
August 6, 1993
J40
53
"As Goof Would Have It"
August 9, 1993
AU52
54
"Calling All Goofs"
August 18, 1993
W53
55
"Buddy Building"
September 2, 1993
W19
56
"Dr. Horatio's Magic Orchestra"
September 13, 1993
J62
57
"Goofs of a Feather"
September 17, 1993
AU48
58
"Goof Fellas"
September 25, 1993
J64
59
"The Good, the Bad and the Goofy"
October 1, 1993
FR17
60
"Educating Goofy"
October 17, 1993
KC60
61
"Peg o' the Jungle"
October 25, 1993
GP65
62
"Partners in Grime"
October 28, 1993
AU55
63
"A Pizza the Action"
November 2, 1993
J6
64
"To Catch a Goof"
November 18, 1993
FR24
65
"Gunfight at the Okie-Doke Corral"
November 26, 1993
FR36
Season 2 (1994-1995)
#
Title
Airdate
Production
code
66
"Queasy Rider"
April 17, 1994
KC69
67
"Maximum Insecurity"
April 28, 1994
AU67
68
"Puppy Love"
May 6, 1994
KC70
69
"Great Egg-Spectations"
October 16, 1994
AU66
70
"Three Ring Bind"
October 21, 1994
AU68
71
"Pistolgeist"
October 29, 1994
W76
72
"Bringin' on the Rain"
November 1, 1994
S77
73
"Talent to the Max"
November 6, 1994
KC73
74
"Tee for Two"
November 20, 1994
W78
75
"Goofin' Up the Social Ladder"
December 7, 1994
S71
76
"Sherlock Goof"
January 3, 1995
KC72
77
"From Air to Eternity"
January 9, 1995
SW75
78
"Clan of the Cave Goof"
January 14, 1995
KC74
Holiday Special (1995)
| | |
| --- | --- |
| | This page uses content from the English Wikipedia. The article or pieces of the original article was at List of Goof Troop episodes. The list of authors can be seen in the page history. As with Disney Wiki, the text of Wikipedia is available under the GNU Free Documentation License. |