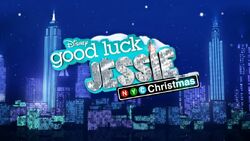 Good Luck Jessie: NYC Christmas is a special hour-length crossover between the Disney Channel original series Jessie and Good Luck Charlie, that aired on November 29, 2013.
Synopsis
Teddy and PJ travel to New York City to tour a university, but a blizzard prevents their return home in time for Christmas. After meeting Jessie on the subway, they embark on a Ross family holiday like no other. Back in Denver, Bob takes the Duncan kids to meet Santa, but Gabe is not in the holiday spirit.
Ad blocker interference detected!
Wikia is a free-to-use site that makes money from advertising. We have a modified experience for viewers using ad blockers

Wikia is not accessible if you've made further modifications. Remove the custom ad blocker rule(s) and the page will load as expected.