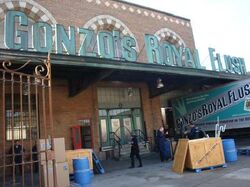 Gonzo's Royal Flush is a plumbing business owned and operated by Gonzo after he left the Muppets and return to his plumbing dream in the 2011 film, The Muppets. The employees include Camilla as an executive secretary. Even though, Gonzo's Royal Flush has been flushed with success, Gonzo had his hand-held Automatic Destroy Plumbing Business, to blow up the factory in case he gets back with the Muppets and show business which he does.
The replica for the construction of Gonzo's Royal Flush was underway at Disney's Hollywood Studios in August 2016.[1]
Gallery
References
Ad blocker interference detected!
Wikia is a free-to-use site that makes money from advertising. We have a modified experience for viewers using ad blockers

Wikia is not accessible if you've made further modifications. Remove the custom ad blocker rule(s) and the page will load as expected.