Ad blocker interference detected!
Wikia is a free-to-use site that makes money from advertising. We have a modified experience for viewers using ad blockers

Wikia is not accessible if you've made further modifications. Remove the custom ad blocker rule(s) and the page will load as expected.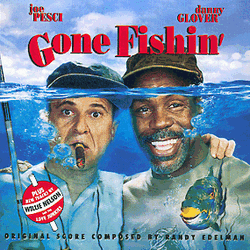 Gone Fishin' is an album released on May 20, 1997 by Hollywood Records. It is the soundtrack to the film Gone Fishin'.
Track listing
Willie Nelson – "Down in the Everglades" – 2:35
Randy Edelman – "Gone Fishin'" – 1:48
Randy Edelman – "Speed Boat Race" – 2:14
Randy Edelman – "Fisherman's Haven" – 1:59
Randy Edelman – "Swamp Music" – 1:26
Randy Edelman – "Discovering the Map" – 1:05
Randy Edelman – "Airboats" – 3:23
Randy Edelman – "Catch's Advice" – 1:06
Randy Edelman – "Alligators" – 1:42
Randy Edelman – "Early Days (Opening)" – 2:16
Randy Edelman – "Unhitched" – 2:43
Randy Edelman – "Out of Gas" – 2:04
Randy Edelman – "Life Is Good" – 1:03
Randy Edelman – "A Stolen Vehicle" – 0:41
Randy Edelman – "Sleepwalking" – 3:32
Randy Edelman – "Closing" – 1:57
Love Junkies – "What Went Wrong" – 3:40
Love Junkies – "Best Friend" – 3:02
| | |
| --- | --- |
| | This page uses content from the English Wikipedia. The article or pieces of the original article was at Gone Fishin' (soundtrack). The list of authors can be seen in the page history. As with Disney Wiki, the text of Wikipedia is available under the GNU Free Documentation License. |