Goldie Locks, more commonly known as Goldie, is the female protagonist of the 2015 Disney Junior animated series, Goldie & Bear. She is a young girl who befriends Bear after she breaks his favorite chair. She always travels with Frog and plays with Bear every time is a adventure. Goldie is more emotional and impulsive, while Bear is more logical. This has given them a few communication errors in their friendship, such as when Goldie developed "Pinocchio-itis" when she had to fib to keep Bear's surprise gift a secret, this making Bear mistakenly see her as dishonest. Goldie is a skilled inventor, able to make complex machines with simple supplies even if they do not work all the time.
Merchandise and Miscellaneous
v - e - d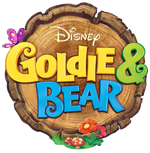 Episodes
Season One: "Fee Fi Fo Shoe" • "Little Gold Riding Hood" • "The Birthday Chair" • "Big Bear" • "Bear's Big Red Shows" • "Goose Sitters" • "Moon Jump" • "The Big Good Wolf" • "The Egg" • "Golden Kickball" • "Too Much Jack & Jill" • "Tiny Tale" • "Abraca Cabbage" • "Furry Godmother" • "Pinocchio-itis" • "The Clubhouse That Jack Built" • "Suddenly Spots" • "A Fish Tale" • "All the King's Men" • "Cheshire Goldie" • "The Troll Tamer" • "The Froggiest Prince of All" • "Bear Who Would Be King" • "When the Gnome is Away" • "Training of the Broom" • "Hickory Dickory Brian" • "Giant Among Us" • "Fetch Skippy Fetch"
Songs
Theme Song • Bein' Nice Is Easy • We Won't Let You Down • Dancing Shoes • We Wanna Be Like You • Playin' With You • The Jacks Club • Big Wide World • We Think • Over The Moon • Magic Dancing Feet • The Perfect Gift • Fishing With Me • Invisible Tango • Prince Charming • Easy to be King • Chores • Training A Broom • Bad Luck Mouse • The Life of a Prince • Tooth Fairy • Home • Things In Common