Ad blocker interference detected!
Wikia is a free-to-use site that makes money from advertising. We have a modified experience for viewers using ad blockers

Wikia is not accessible if you've made further modifications. Remove the custom ad blocker rule(s) and the page will load as expected.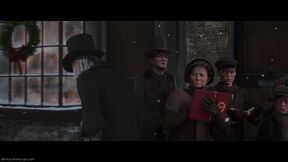 "
God Rest Ye Merry Gentlemen
" is a famous Christmas song that can be heard in
A Christmas Carol
. It is sung by a group of carol singers before
Scrooge
silences them when he is near. When he moves away from them, they continue singing.
Lyrics
God rest ye merry gentlemen
Let nothing you dismay
Remember Christ our Savior
Was born this Christmas Day
To save us all from Satan's power
When we were gone astray
[Chorus]
O tidings of comfort and joy
Comfort and joy
O tidings of comfort and joy
In Bethlehem in Israel
This blessed babe was born
And laid within a manger
Upon this blessed morn
To which His mother Mary
Did nothing take in scorn
[Chorus]
From God our heavenly father
A blessed angel came
And unto certain shepherds
Brought tidings of the same
How that in Bethlehem was born
The son of God by name
[Chorus]