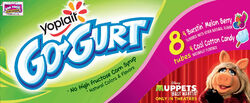 Go-Gurt, also known as Yoplait Tubes in Canada and as Frubes in the United Kingdom, is an American brand of sweetened yogurt marketed to children. It debuted in 1999 by General Mills' brand Yoplait. Although not owned by Disney, it sponsored the Disney Company with promotions for Disney films, such as Muppets Most Wanted.
Gallery
Videos
Ad blocker interference detected!
Wikia is a free-to-use site that makes money from advertising. We have a modified experience for viewers using ad blockers

Wikia is not accessible if you've made further modifications. Remove the custom ad blocker rule(s) and the page will load as expected.