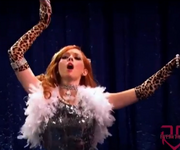 Glamour Kitty
(portrayed by Kimberly Whalen) was a member of the all-girl group known as the Stray Kitties.
Background Information
She appeard in Solos & Stray Kitties. Dez had a crush on her, to the point where he gave her expensive gifts, took her out to fancy dinners, and acted all mysterious. He even went to the point where he said, "I love you," (indirectly). At the end of the episode, it is revealed that she is exactly like Dez-she likes to wear wacky clothes, she's not glamorous, and she loves Zalien movies.