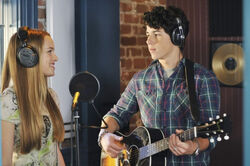 "
Give Love A Try
" is a song which appears in the
Jonas L.A.
episode "
Wrong Song
" where Nick writes the song to his crush
Penny Ken
. The song is sung by both Nick and Penny (
Bridgit Mendler
) during the episode. It also appears in a few other episodes of the show.
Lyrics
You, you like driving on a Sunday
You, you like taking off on Monday
You, you're like a dream, a dream come true

I was just a face you never notice
Now I'm just trying to be honest
With myself, with you, with the world

You might think that I'm a fool
For falling over you
So tell me what I can do to prove to you
That it's not so hard to do?

Give love a try, one more time
'Cause you know that I'm on your side
Give love a try, one more time

How did it play out like a movie?
Now every time you speak it moves me
And I can't get your smile off my mind

And your eyes, when I saw 'em for the first time
Knew that I was gonna love you for a long time
With a love so real, so right

Well, you might think that I'm a fool
For falling over you
So tell me what I can do to prove to you
That it's not so hard to do?

Give love a try, one more time
'Cause you know that I'm on your side
Give love a try, one more time