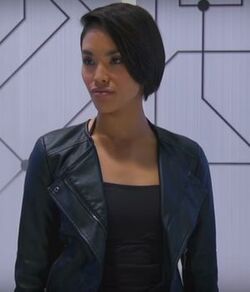 Giselle Vickers is the main antagonist of Lab Rats. She appeared the episode "Bionic Action Hero". She is portrayed by Jessalyn Wanlim.
History
She was the main antagonist for Season 4, usurping the position from both Douglas Davenport and Victor Krane (the latter being killed in Space Colony. She is Douglas' former colleague, and is the owner of Giselle's Robotics Company. She's a big Hollywood filmmaker, making the Zombie Truck Stop movie, and wanted to make a movie about Adam, Bree and Chase, featuring actor Troy West, whom is later revealed to be an android. However, this is later revealed to be a cover up to create an android army, to replace the Bionic Superheroes. Adam, Bree, Chase, Leo and Douglas put an end to her operation by destroying all of her androids, but she escaped, resurrecting Marcus. She died in "The Vanishing".
Ad blocker interference detected!
Wikia is a free-to-use site that makes money from advertising. We have a modified experience for viewers using ad blockers

Wikia is not accessible if you've made further modifications. Remove the custom ad blocker rule(s) and the page will load as expected.