Ad blocker interference detected!
Wikia is a free-to-use site that makes money from advertising. We have a modified experience for viewers using ad blockers

Wikia is not accessible if you've made further modifications. Remove the custom ad blocker rule(s) and the page will load as expected.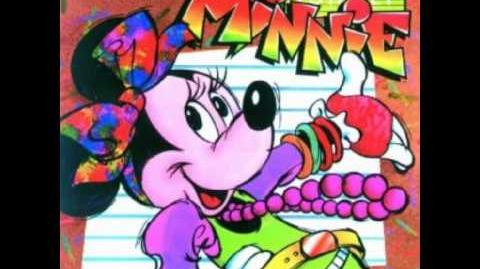 "
Girl Talk
" is the second song off the album,
Totally Minnie
. The song is performed by Scottie Haskell and Desiree Goyette, and features
Russi Taylor
as
Minnie Mouse
and
Patricia Parris
as
Daisy Duck
at the beginning of the song having a phone conversation.
Lyrics
Daisy Duck (Spoken): Hello?

Minnie Mouse (Spoken): Hi Daisy, it's Minnie! Could I borrow your red bangle to wear to the dance?

Daisy Duck (Spoken): Sure Minnie! When's Mickey picking you up?

Minnie Mouse (Spoken): At eight! I'm so excited, I could just squeak!

Hey, what a blast

Did you know the whole class is going to the dance tonight?

I just did my hair

What are you gonna wear?

I bought a brand new dress; alright!

The mall's really hopping

The whole gang is shopping, oh-oh, for party clothes

Guess I'll see you at eight

Yeah that sounds really great!

I'll be there, and we can share some

Girl talk, got to be girl talk

Gotta be, got to be girl talk

'Bout the boys and the clothes we're wearing

And the secrets that we're sharing

Girl talk, got to be girl talk

Girl talk, got to be girl talk

We're not alone when we use the phone

Makin' girl talk of our own

Everyone's talking; the gym will be rocking

The band's got an awesome beat

If the boys want to dance, you know I'll take a chance

I hope he won't step on your feet

Mom now don't worry; I'm really trying to hurry

Uh-oh, you better go!

Guess I'll see you tonight

Hey mom, it's all right

I'm off the phone, and anyway, it's only

Girl talk, got to be girl talk

Gotta be, got to be girl talk

'Bout the boys and the clothes we're wearing

And the secrets that we're sharing

Girl talk, got to be girl talk

Girl talk, got to be girl talk

We're not alone when we use the phone

Making girl talk of our own

Oh, oh,

Girl talk, got to be girl talk

Gotta be, got to be girl talk

'Bout the boys and the clothes we're wearing

And the secrets that we're sharing

Girl talk, got to be girl talk

Girl talk, got to be girl talk

We're not alone when we use the phone

Making girl talk of our own