The Gideon-bot is a robot made by Old Man McGucket for Gideon Gleeful.
Its destruction was foreshadowed, as it flashed on
Bill Cipher
's body in "
Dreamscaperers
".
It made its physical appearance in "Gideon Rises" after Gideon stole 3 from Dipper. Later in the episode, after Gideon learns that there are three journals, not two, he uses the completed Gideon-bot to catch up to the bus Dipper and Mabel were on that was headed back to Piedmont, California. The Gideon-bot rips off the roof of the bus while Dipper and Mabel run on a bridge in hopes of escaping. Gideon catches them and demands to know where 1 is.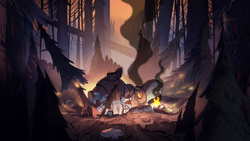 Dipper is then confused and doesn't know what he is talking about, so Gideon uses the Gideon-bot to pick them up, and it throws Dipper on top of a cliff. He then walks away with Mabel, with plans to make her his queen. Dipper runs off of the cliff and breaks into the Gideon-bot through its eye. Gideon and Dipper fight, almost destroying the bridge and beating up the robot at the same time. Dipper defeats Gideon but the Gideon-bot falls off the bridge. It crashes onto the ground and explodes.
Appearance
Edit
The Gideon-bot looks like Gideon, but his right half is a dark color. Its cheeks are red and its eyes, wrists, and ankles glow yellow.