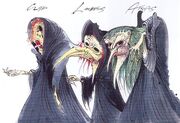 Gerald Scarfe is a British cartoonist and illustrator, best known for his work in many magazines in both the US and the UK and the artwork for the 1979 Pink Floyd concept album "The Wall " and directed the animated segments of the 1983 film based on the album . He served as a production and character designer for Hercules.
External Links
Ad blocker interference detected!
Wikia is a free-to-use site that makes money from advertising. We have a modified experience for viewers using ad blockers

Wikia is not accessible if you've made further modifications. Remove the custom ad blocker rule(s) and the page will load as expected.