George Sanderson
Comments

2
18,993pages on
this wiki
Geroge Sanderson
Background information
Feature films
Monsters, Inc.
Monsters University
Television programs
Video games
Disney Universe
Park attractions
Portrayed by
Portrayed by
Animators
Voice
Samuel Lord Black
Performance model
Designer
Inspiration
Honors and awards
Character information
Full name
Other names
Personality
Kind, friendly, clumsy
Appearance
Large, slightly obese orange monster with yellow stripes, horn sticking out of his forehead
Birthday
Occupation
Scarer (formerly)
Affiliations
Good
Goal
To scare kids on the Scare Floor (formerly)
Home
Monstropolis
Relatives
Pets
Allies
Mr. Waternoose (formerly), his assistant Charlie, Sulley, Mike Wazowski, Claws Ward
Minions
Charlie
Enemies
His former boss Mr. Waternoose
Likes
His assistant Charlie, scaring kids (formerly)
Dislikes
The CDA, being a Code 23-19
Powers and abilities
Weapons
Fate
Works on his own on the new Laugh Floor and makes kids laugh instead of trying to scare them.
Quote
"Keep the doors coming, Charlie. I'm on a roll today."
[Source]
George Sanderson is a character from Monsters, Inc. He is a monster that runs afoul of the CDA's "Code 23-19," contact with a human child, several times during the film, forcing the CDA to shave and scrub him to remove any trace of human contact. He is voiced by actor and storyman, Samuel Lord Black.
George is a scarer on Scarefloor F at Monsters, Inc. He is a furry monster with a horn on top of his head. George is also very good friends with Mike, Sulley, and Claws Ward.
When he comes out of his door one day, he has a child's sock on his back and when his assistant, Charlie sees the sock on his back, he gasps and shouts, "23-19! We have a 23-19!". The CDA agents arrive and remove the sock from George's back. The agents then shave George's fur off, have him showered, and place a cone on his head.
Later on in the film, Sulley puts some of Boo's toys in George's locker which George accidentally left open, and when George opens it the next day, the toys fall on top of his head and Charlie calls again for the CDA agents who come and jump on George again putting more cones on him.
Later, when Charlie gets George a door from Nepal, Sulley bursts through after being banished and a sock falls on George's chest. Just as Charlie is about to call for the CDA again, George stuffs the sock into Charlie's mouth and throws Charlie into the kid's door and walks away happily while whistling.
At the end of the film, George's fur grows back and works on his own on the new Laugh Floor making kids laugh instead of trying to scare them. He was also seen carrying a watermelon and a sledgehammer, indicating that he was going to smash a watermelon with the hammer a la Gallagher's Sledge-O-Matic gag.
George also appears in the company play, Put That Thing Back Where It Came From Or So Help Me, a play directed by, produced by, written by, and starring Mike.
Merchandise as well as concept art and a poster have confirmed Sanderson will appear in the prequel as a member of the Jaws Theta Chi fraternity.
Gallery
Disney Parks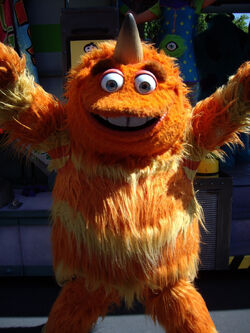 George Sanderson makes appearances in Disney parks around the world as a performing character who isn't a meetable one. He dances in many parades, shows and events.
Trivia
There has been no accidents at the factory for 47 days prior to George's decontamination.
In one of the outtakes, when the CDA agents shave off George's fur and have him showered, they surprisingly find Roz taking his place instead, which sends the agents bursting into laughter.