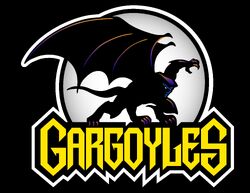 Gargoyles
is a Walt Disney Company animated television series. Two seasons of the show (totalling 65 episodes) were aired as part of the Disney Afternoon programming block between October 24th,
1994
and May 15th, 1996. (A third season, rebranded as
The Goliath Chronicles
and broadcast on ABC, aired from September 7th, 1996 until February 15th, 1997, but this season is not considered canonical.) The series differed from other Disney series in its level of maturity and the darker tone of the program. It drew much inspiration from world folklore, notably the works of William Shakespeare, legends of King Arthur, and Norse mythology.
Characters
Good Gargoyles
Human Allies
Evil Gargoyles
Human Enemies
Episode List
See main page at: Gargoyles Episodes List
Gallery
External Links