Ad blocker interference detected!
Wikia is a free-to-use site that makes money from advertising. We have a modified experience for viewers using ad blockers

Wikia is not accessible if you've made further modifications. Remove the custom ad blocker rule(s) and the page will load as expected.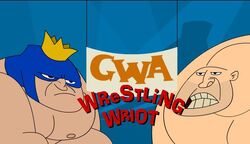 GWA Wrestling Riot
is an online video game centered around
Kim Possible
.
Description
A wrestling game but simplified this one is more like a rock, paper, scissors kind of game. Are you ready for chest-thumping, ground-shaking CONFRONTATION? Step right up to the ring and select your wrestler. The first wrestler to win 4 rounds will be the UNDISPUTED CHAMPION!