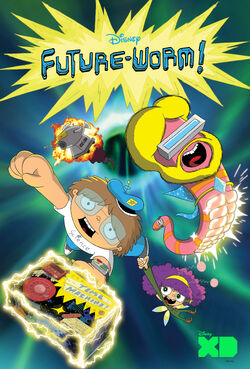 Future-Worm! is created by the Emmy Award-winning director Ryan Quincy.
The short-form series first aired on May 27, 2015. The full series was planned to air in fall 2015. The series was simulcast on August 1, 2016 on Disney XD in US and Canada.[1][2][3]
Quincy, who joined the Disney Television Animation team in 2013, is the executive producer.
Plot
Future-Worm! follows Danny Douglas, an optimistic 12-year-old who creates a time machine lunch box and befriends Future Worm, a fearless worm from the future. Together, the duo navigates through space, time and study hall, embarking on adventures and spontaneously making up new ones along the way.
Characters
Main Characters
Supporting Characters
Episodes
| # | Title | Air date | Summary |
| --- | --- | --- | --- |
| 1a | "Long Live Captain Cakerz!" | August 1, 2016 | Danny's favorite cereal, Captain Cakerz, is out of stock, so he travels back to find out what happened to them. |
| 1b | "Healin' Touch With Dr. D" | August 1, 2016 | After Danny gets a brain freeze, Future Worm puts him on a future medical TV show where the doctor is a terrifying Tyrannosaurus Rex. |
| 1c | "Terrible Tuber Trouble" | August 1, 2016 | Danny's attempt to make his parents dinner while also playing with his new chemistry set inadvertently leads to the creation of a potato monster. |
| 2a | "How to Beat a Cold...With Fists!" | August 8, 2016 | When Danny is too sick to attend Sci-Fi-Fanta-Con, he accidently creates a giant cold monster. |
| 2b | "Unsolved Histories I" | August 8, 2016 | When Danny and Future Worm can't get a burrito on Columbus Day, they travel back in time to rewrite history. |
| 2c | "Old Man Duck Head" | August 8, 2016 | Danny and Fyootch inadvertently make an old man with a duck on his head President. |
| 3a | "Meetiversary" | August 15, 2016 | When Fyootch forgets to get a holiday gift for Danny, he goes to great lengths to fix it. |
| 3b | "Steak Starbot" | August 15, 2016 | When Steak Starbolt gets a new robot game, he ignores his teammates. |
| 3c | "The Very Hungry Killa-Pillah" | August 15, 2016 | When Bug builds a "truck-o-saurus" monster, the trio must find a way to tame it. |
| 4a | "Bubble Dad" | August 22, 2016 | Danny builds a hermetically-sealed bubble so his dad can join the family camping trip. |
| 4b | "Future Danny and the Ghost Pirates of Tau Ceti" | August 22, 2016 | Future Danny is held captive by aliens. |
| 4c | "Porthole to the Lizard" | August 22, 2016 | Before Danny can go see a Komodo Dragon, he must first escape detention. |
| 5a | "Deunited" | August 29, 2016 | Fyootch decides to spend the day with Bug. |
| 5b | "Great Debates With The End of Time I" | August 29, 2016 | When Danny and Fyootch disagree, they travel to the end of time to ask the highest authority in the universe. |
| 5c | "The Forever Five" | August 29, 2016 | When Megan's robot gets rejected at work, Danny works hard to improve it. |
| 6a | "The Bleak Shall Inherit the Earth" | September 19, 2016 | When Danny tries to prove that he is the biggest fan of the band Titanium, he and Fyootch get stuck in an alternate reality. |
| 6b | "Makin' History" | September 19, 2016 | Danny brings a lobster boy back from the past for a school project. |
| 6c | "Lobster Boy Movie Trailer" | September 19, 2016 | Lobster Boy chases his dream of playing quarterback for the school football team. |
| 7a | "Go Help Yourself" | October 3, 2016 | When Fyootch leaves Danny to do one last job for a friend, it puts them both in danger. |
| 7b | "Barl" | October 3, 2016 | Fyootch and Danny go on a road trip in the Time Tunnel with a broccoli creature named Barl. |
| 7c | "Mecha Mech Wars 1" | October 3, 2016 | Fyootch must lead an army of rebels to fight against the Mecha-Muck monsters. |
| 8a | "Revenge of the Anchovy Monster" | October 10, 2016 | An anchovy monster launches revenge on Fyootch and Danny to prevent them from getting pizza. |
| 8b | "Food Goggles" | October 10, 2016 | When Danny invents a device that makes everything taste good, he forms an insatiable appetite. |
| 8c | "Steak Starbolt Spooktacular" | October 10, 2016 | When Steak Starbolt delivers a public service announcement, he finds that he's trapped in the TV. |
| 9a | "Robo Carp-Alypse" | October 17, 2016 | All of Danny's exploded Robo-Carps come back to life as zombie-carps. |
| 9b | "The Reemen" | October 17, 2016 | Horrifying creatures from another dimension invade Danny's house. |
| 9c | "Dr. D Ghost Hunter" | October 17, 2016 | Everybody's favorite celebrity TV doctor is back on a new episode of Dr. D, Ghost Hunter. |
| 10a | "Steak Starmom" | October 24, 2016 | Danny's mom accidentally stumbles into the Steak Starbolt virtual reality game. |
| 10b | "Lemonade's Last Stand" | October 24, 2016 | Danny and Fyootch set up a lemonade stand in a lemon-less future. |
| 10c | "This Week in Future Science 1" | October 24, 2016 | The scientists who created Fyootch create more abominations of nature. |
| 11a | "The Time Travelers Council" | November 07, 2016 | Danny travels through time to avoid being grounded. |
| 11b | "Future Danny And The Scourge Of The Plierates" | November 07, 2016 | Future Danny interrupts a ritual led by the Plierates. |
| 11c | "Bug's Very Important Job" | November 07, 2016 | Future Danny pays a visit to Bug. |
| 12a | "Bug Vs. The Babysitter" | November 14, 2016 | Bug tries to ditch the babysitter, Zoe. |
| 12b | "Doug Race: 3939" | November 14, 2016 | Danny's new invention goes awry. |
| 12c | "The Panama Bananama" | November 14, 2016 | Danny and Fyootch visit Aunt Bitsy as a young woman. |
| 13 | "Future-Worm and the 54 Days of Snordfest" | December 12, 2016 | Embarrassed by his role in a future-holiday movie, Future Worm time travels to make sure it never happens |
| 14 | "Lost in the Mall" | December 16, 2016 | When the family accidentally leaves Doug at the mall, they return to discover a sinister plan afoot in Santa's Village. |
| 15a | "Devil in Bug's Shoulder" | June 19, 2017 | |
| 15b | "Assassin Parrot" | June 19, 2017 | |
| 15c | "The Never-Ending End of Time" | June 19, 2017 | |
| 16a | "Egg in the Family" | June 20, 2017 | |
| 16b | "The Right To Bear Arms" | June 20, 2017 | |
| 16c | "This Week in Future Science 2" | June 20, 2017 | |
| 17a | "Danny Swap: The Musical" | June 21, 2017 | |
| 17b | "The World According to LARP" | June 21, 2017 | |
| 17c | "Mecha-Muck Wars 2" | June 21, 2017 | |
| 18a | "O Brother, Here Art Thou" | June 22, 2017 | |
| 18b | "Life With Barl" | June 22, 2017 | |
| 18c | "Fyootch Fails" | June 22, 2017 | |
Shorts
No Anchovies (May 27, 2015)
The Banana Peel Problem (June 2, 2015)
Insta-Beard (June 4, 2015)
Future Danny (June 9, 2015)
References
External Links
v - e - d
Disney Television Animation series