Ad blocker interference detected!
Wikia is a free-to-use site that makes money from advertising. We have a modified experience for viewers using ad blockers

Wikia is not accessible if you've made further modifications. Remove the custom ad blocker rule(s) and the page will load as expected.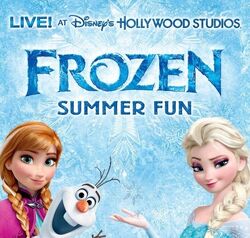 Frozen Summer Fun is a Frozen-themed annual event held at Disney's Hollywood Studios and Disneyland Park (Paris).
The inaugural event, which began on June 4, 2014 at Disney's Hollywood Studios, features seasonal attraction overlays and entertainment offerings, as well as the opening of For the First Time in Forever: A Frozen Sing-Along Celebration. The event began at Disneyland Paris on June 11, 2015.
Disney California Adventure's event was started from January 7, 2015 to April 17, 2016. Hong Kong Disneyland's event was started from the event on June 11 to October 4, 2016 under the name "Frozen" Village.[1]
Offerings
Major offerings of Frozen Summer Fun include:
For the First Time in Forever: A Frozen Sing-Along Celebration – Join Anna, Elsa and the Royal Historians of Arendelle to enjoy For the First Time in Forever: A Frozen Musical Celebration. Laugh and sing along while enjoying this humorous and heart-warming retelling of the kingdom's history.
Frozen Royal Welcome
Hot Frozen Nights DJ Dance Party
Olaf's Summer Cool Down
Olaf's Snow Fest
"Anna and Elsa's Royal Welcome"
"Freeze the Night! A Family Dance Party"
"Frozen" Festival Square
"Frozen" Processional
See also
References