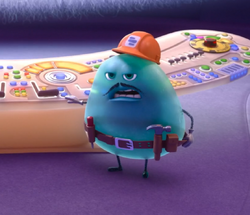 "All right. Here you go. Your new, expanded console is up and runnin'."
―Fritz's only line
Fritz is a character in the 2015 Disney/Pixar film Inside Out. He is a greenish-blue Mind Worker with a mustache and no hair who installs an upgraded console in Headquarters when Riley turns twelve.
He is voiced by John Ratzenberger.
Ad blocker interference detected!
Wikia is a free-to-use site that makes money from advertising. We have a modified experience for viewers using ad blockers

Wikia is not accessible if you've made further modifications. Remove the custom ad blocker rule(s) and the page will load as expected.