Ad blocker interference detected!
Wikia is a free-to-use site that makes money from advertising. We have a modified experience for viewers using ad blockers

Wikia is not accessible if you've made further modifications. Remove the custom ad blocker rule(s) and the page will load as expected.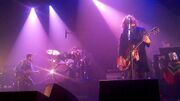 "Friends Again" is a deleted song originally written for The Muppets by My Morning Jacket's Jim James. It was originally supposed to be sung by Dr. Teeth and the Electric Mayhem, but it was deleted from the film. Although it had been sung by My Morning Jacket in concerts.
Lyrics
It was so natural
That perfect feeling inside
So economical
Your comfort was my pride
But then you woke up
On the wrong side of bed
Started caring about what other people said
And then it seems
You're letting go of our dreams
But you know what this business partner needs
So let's be friends again
I'm tired of feeling this way
Let's be friends again
I can't do it without you babe now
Do you remember that first night we met?
That was a feeling that I never will forget
Rocking in your arms
Feeding the soul
I was in your heart
Then wouldn't you know
You woke up
On the wrong side of bed
Starting caring about what other people said
And now it seems
You're letting go of our dreams
But you know what this business partner needs
So let's be friends again
I'm tired of feeling this way
Let's be friends again
I can't do it without you babe now
Friends again
Let's be friends again
Video