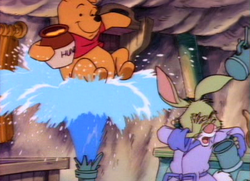 "
Friend, In Deed
" is the second segment of the second episode of the first season of 
The New Adventures of Winnie the Pooh
, and it is the first episode after this show's mini-series.
Plot
The episode starts with Pooh approaching Rabbit's house in hopes of borrowing more honey. Inside, Rabbit is hammering boards of wood over his door, so Pooh won't get in. Pooh gets in through the back door, and asks Rabbit for more honey. At first Rabbit claims he has no more honey, holding the jar behind his back. Pooh sees the honey in the mirror Rabbit stands in front of. Rabbit ends up giving Pooh the honey, much to Rabbit's disliking.
Later, Rabbit puts up "4Sale" signs all over the outside of his house, tricking Pooh to think that he's moved away so he won't come visit him. Eeyore happens to notice this and inquires why he's doing that. Rabbit says that Pooh is eating him out of house and honey. When Pooh walks by, Rabbit hides back inside. Pooh sees the "4Sale" signs, and Eeyore explains that Pooh has eaten Rabbit out of house and honey. Pooh misunderstands the plan, thinking that Rabbit has run out of honey and is afraid Pooh won't come visit him. Pooh sets out to get some more honey to ensure Rabbit's stay.
Tigger, Piglet and Pooh come up with a plan where Tigger (disguised as a bee) buzzes around Piglet (disguised as a flower). The bees buzz around the flower, and Pooh climbs in the hive to get honey. The bees circle around Piglet, but unfortunately the bees tickle Piglet's nose, causing him to sneeze and drop his costume, and Tigger's. The bees notice Pooh in the hive, and knock him out of it. When caught by Tigger and Piglet, they all tumble into the mud.
With the help of Gopher, they attempt to tunnel into the honey tree. They are successful, but the bees notice, and Pooh, Piglet, Tigger and Gopher run. They lose the bees in the tunnels, but Gopher accidentally digs into the bottom of a lake. They try to run from the water, but it catches them. The water rushes up the tree and up the honey hive. Pooh collects his honey in the fiasco.
They rise up on a waterspout, but when the spout ends Pooh falls into Gopher's hole and travels through the pipes. Rabbit is satisfied with the trick, but when he uses the water pump, Pooh comes in through it. Rabbit thinks he is here to borrow more honey and loses his temper, accidentally breaking Pooh's honey pot. Pooh, devastated and still thinking Rabbit will move away if Pooh doesn't get more honey, apologizes and runs out of the house. Rabbit is stunned, having realized that Pooh cared more about him than his honey. Rabbit, touched by Pooh's kindness and feeling guilty for having caused Pooh such grief, then comes into Pooh's house while he's asleep and gives him a honeypot.
The next day, Pooh visits Rabbit and gives him the honeypot Rabbit secretly gave him. Rabbit acts surprised and lets Pooh eat the honey. It ends when Pooh says "My, Rabbit. You are a good friend." Rabbit says "Indeed, Pooh. Indeed."
Characters
Cast
v - e - d
Songs
Movie Songs
Winnie the Pooh and the Honey Tree: "Winnie the Pooh" | "Up, Down, Touch the Ground" | "Rumbly in My Tumbly" | "Little Black Rain Cloud" | "Mind Over Matter"
Winnie the Pooh and the Blustery Day: "A Rather Blustery Day" | "The Wonderful Thing About Tiggers" | "Heffalumps and Woozles" | "Rain, Rain, Rain Came Down, Down, Down" | "Hip-Hip-Poohray"
Boo to You Too! Winnie the Pooh: "I Am Not Afraid" | "I Wanna Scare Myself"
Pooh's Grand Adventure: The Search for Christopher Robin: "Forever & Ever" | "Adventure is a Wonderful Thing" | "If It Says So" | "Wherever You Are" | "Everything is Right"
The Many Songs of Winnie the Pooh: "It Really Was a Woozle, Yes it Was"
Sing a Song with Pooh Bear: "Kanga Roo Hop" | "You're the One and Only One" | "Harvest What You Grow" | "My Song"
Winnie the Pooh: A Valentine for You: "Girls are Like Boys" | "When the Love Bug Bites" | "Places in the Heart"
The Tigger Movie: "Someone Like Me" | "Whoop-de-Dooper Bounce" | "Lull-a-Bee" | "Round My Family Tree" | "How to Be a Tigger"
Piglet's Big Movie: "A Mother's Intuition" | "With a Few Good Friends" | "Sing-Ho (For the Life of a Bear)"
Springtime With Roo: "We're Huntin' Eggs Today" | "Sniffly Sniff" | "Easter Day With You" | "The Way It Must Be Done" | "The Grandest Easter of Them All"
Pooh's Heffalump Movie: "The Horribly Hazardous Heffalumps" | "Little Mr. Roo" | "The Name Game" | "Shoulder to Shoulder" | "In the Name of the Hundred Acre Wood/What Do You Do?"
Pooh's Heffalump Halloween Movie: "Trick 'R' Treating With Our Friends" | "Brave Together" | "As Long As I'm Here With You"
Winnie the Pooh: "The Tummy Song" | "A Very Important Thing to Do" | "The Winner Song" | "The Backson Song" | "It's Gonna Be Great" | "Everything is Honey" | "Pooh's Finale"
Television Songs
Welcome to Pooh Corner: "Welcome to Pooh Corner Theme Song" | "Try a Little Something New" | "The Right Side" | "Just Say, 'Yes I Can'" | "You're the Only You" | "I Hum to Myself" | "Please and Thank You" | "Responsible Persons" | "Be a Buddy, Be a Pal" | "Trees" | "A Part of Me" | "Welcome to Pooh Corner Ending Theme"
The New Adventures of Winnie the Pooh: "Pooh Bear" | "'Cause It's Make Believe" | "The Floating Song" | "Nothing's Too Good for a Friend" | "Under the Bed" | "I Don't Have A Name" | "King of the Beasties (song)" | "The End" | "Pirates is What We'll Be" | "Tigger, the Private Ear is Here"
The Book of Pooh: "Everyone Knows He's Winnie the Pooh" | "Your Best Wishes" | "On the Double" | "Who is Me" | "Think, Think, Think" | "A Pirate Has Got to Have Arrr" | "Day in the Life of a Pooh" | "What Piglets Are" | "Dinosnores" | "I Watch for Signs" | "We're Making a Cake" | "A Mystery" | "If I Could Be Big" | "Isn't that Funny?" | "Find the X" | "Everyone Wants a Valentine" | "That's What We Do" | "Keep it Simple" | "Have You Got a Book For Me?" | "Give It a Try" | "The Play's the Thing" | "On Your Way Back Home" | "Nightmare Wranglers" | "We Royaly Request" | "The Sweetest Thing You Are Seeking" | "Carry On" | "The Plumed Protector" | "Flying Up, Up and Away" | "The Bluebird Song" | "Green Thing" | "What's Your Name, River?" | "Thank You, Please" | "When You're a Monster Too" | "Where Do Words Go?" | "Show the Sign" | "Under a Spelling Bee's Spell" | "With Books You Get Carried Away" | "Adventure" | "Mental Altitude" | "I Want to Know Everything Now" | "Happy Tailiversary" | "Get Growin'" | "Tigger's Lullaby" | "A Wood Without Pooh" | "Impossible to Live With" | "Rhyme-a-Bye" | "Friends Until the End" | "Perfect Party" | "If We Were Talkin'" | "Party Animal" | "Bravehat" | "That's All it Was" | "What's a Tigger Without a Bounce?" | "Our Favorite Day" | "Someone New to Meet" | "Every Day is a Song" | "When I Meet a Heffalump" | "Time Stands Still" | "The Who, What, When, Where, Why" | "24 Hours to Save the Day" | "Gardener of the Year" | "The Hundred Acre Circus" | "Into Outer Space" | "Blissful Bossa Nova" | "My Hero\If You Don't Have Friends" | "Talking Tomato" | "Flying" | "I Want To Be Scary" | "Nothin' Much Scares Me" | "The Hundred Acre Halloween" | "Just Ring Your Bell" | "Our Perfect Map of the Wood" | "Broken Friendships" | "Do the Roo" | "The Rabbit Tango" | "The Honey Dance" | "Piglet Ballet" | "Call Me Buck-a-Roo" | "It's Only Magic" | "I Never" | "King of the Heffalumps" | "Pouncing Panther Pledge" | "At Chez Piglet" | "A Perfect Forest" | "That's How You Put on a Show" | "Let it Rain" | "Stripey McSnarl Always Gets His Man" | "The Littlest Dinosnore" | "Nothing Ever Happens" | "Power of the Pencil" | "Too Much Honey" | "Lost in a Book" | "Goodbye for Now"
My Friends Tigger and Pooh: "My Friends Tigger and Pooh Theme Song" | "Bouncin'" | "Just a Few Simple Rules" | "The Password Song" | "Underneath the Same Sky" | "One Big Happy Family" | "Think, Think, Think" | "Ask a Question" | "The Little Things You Do" | "Christmas Comes Tomorrow" | "Time to Go (On a Trek Through the Snow)" | "Snowman Song"
Miscellaneous: "Luv-a-bye"
Ad blocker interference detected!
Wikia is a free-to-use site that makes money from advertising. We have a modified experience for viewers using ad blockers

Wikia is not accessible if you've made further modifications. Remove the custom ad blocker rule(s) and the page will load as expected.