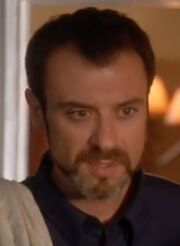 Francobollo Garibaldi
is the Italian father of
Galleria Garibaldi
and the husband of Dorothea Garibaldi. He is constantly traveling, due to his job.
Background
Francobollo is born in Italy and he meet Dorothea in America. They married and had Galleria. He travels through the world and sells her purses
Physical Appearance
Francobollo is a Italian man. He is very tall and is light-skinned, he also has black hair.
Appearances
The Cheetah Girls