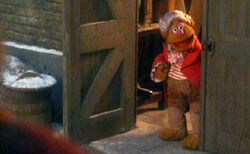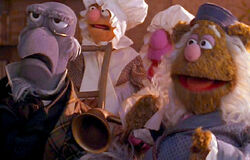 Fozziwig is the version of Fezziwig featured in The Muppet Christmas Carol. He runs the Fozziwig Rubber Chicken Factory and was Scrooge's first employer. With his mother, Fozziwig also presides over the annual Christmas party. It's at one such party that young bookkeeper Ebenezer is introduced to Belle, a friend of the family.
An elderly Fozziwig, with a beard and an ear horn, is seen again when Scrooge returns to the present, residing in a sort of Victorian-era nursing home alongside Scrooge's headmaster.
A mini-figure of Fozziwig was included in Palisades Toys' Mini Muppets line of Muppet Christmas Carol characters.
| | |
| --- | --- |
| | This page uses Creative Commons Licensed content from Muppet Wiki. The list of authors can be seen in the page revision history (view authors). As with Disney Wiki, the text of Muppet Wiki is available under the CC-by-SA Free Documentation License. |